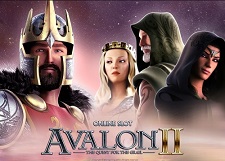 New online slots are being introduced to the online casino sites at an alarming rate. They are becoming more engaging and generally provide a lot of entertainment for you as the player. But entertainment alone is not going to keep players coming back to play games over and over. They want to win some money too, so you will also find that the best online slots will have a multitude of bonus features that give you plenty of opportunity to rack up a lot of winning combinations.
One of the most popular forms of online slot games these days is the new video slots. Microgaming is the leading innovator behind the very latest online video slots and the quality of these games is very impressive. A lot of them are based around big brand themes, such as the Terminator 2 and Tomb Raider slot games. Then there are others that are completely original and designed specifically to be slot games, such as Immortal Romance and Thunderstruck II.
Play the Best Online Slots NOW –

click here
Progressive jackpot online slots
Progressive jackpot games have always been a popular inclusion to the slot floors of casinos around the world, so you can be sure to find many progressive slot games in the online casinos too. Some of the bigger online casinos such as Casino Action and Blackjack Ballroom have a lot of progressive slots on their virtual slot floors. Many of them have high 6-figure progressive jackpots, and you will also find the odd 7-figure progressive game too.
One of the most popular progressive online slot games is Mega Moolah. This game has a base progressive of 1 million (Pounds, Euros or Dollars, depending on which currency you are playing in). So any time the jackpot is hit it will be reset to the 1 million mark again. But you will often see this jackpot head up into the multiple millions, and it has been hit several times when it has been into the multiple millions as well.
There has already been winners of the Mega Moolah progressive so far in 2014. There were also past winners that won significant amounts by hitting the progressive jackpot. Mr. 'Klaus E' won a jackpot of $5,556,753.68 on a 50¢ bet while playing Mega Moolah in the Blackjack Ballroom Casino. He was flown all the way to Sydney, Australia where he picked up his cheque and was also treated to some sightseeing around this wonderful city.

Then there was Mr. 'A.D' who won €3,841,871.46 while playing Mega Moolah. He was also flown down to Sydney to pick up his money and shown around the local attractions. These are just two of the many winners from this popular progressive jackpot slot game.

Play Mega Moolah at Blackjack Ballroom NOW –

click here
Video Poker
Video Poker games are certainly not new, but they continue to be one of the most played slot games in both real and online casinos. A lot of the savvier slot players often go for the Video Poker slots as they have a higher payout percentage than most other slot games. They are also a game that many beginners like to play as they do not pose any real complications or difficulties when playing. The concepts of the games are generally very easy, and even if you do not play Poker you can still get to grips with these games very quickly.
There are many different types of Video Poker games, and a lot of the online casinos will give you multiple options to play. Things like Deuces Wild and Jacks or Better are classic Video Poker games, and you will find these in a lot of the better online casino sites.
Play Video Poker online NOW –

click here
With new slot games being added to the better online casinos all the time, you will always have a massive selection to choose from. Casinos such as Casino Action and Blackjack Ballroom have close to 500 games, and this is increasing all the time. So if you want to play the best online slots create your free account at these casinos through the links on this page and start playing them now.