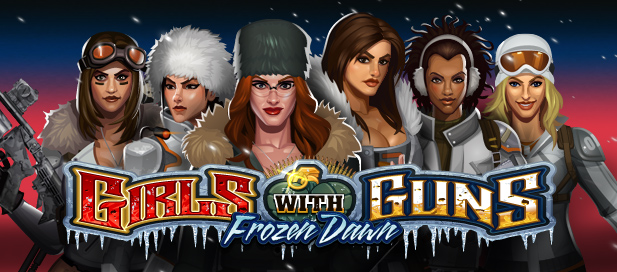 The sequel to the hugely popular Girls with Guns: Jungle Heat game Girls with Guns 2: Frozen Dawn has all the elements of a thrilling and electrifying adventure. The sequel of the action adventure game, much in Lara Croft: Tomb Raider and Resident Evil style might be based in the Arctic but the adventure and action that promises to be unleashed is definitely red-hot. In the earlier edition of the game, the six energetic and vivacious heroines in their own right, Jess, Zoe, Alex, Kira, Maria and Katherine were the Girls with Guns who braved the wild jungles and the rainforest to bring down the evil drug baron Hector to justice.
In the second edition of the hugely popular game that came out on the night of April 9th, 2014, the six femme fatales are all set to track down the alluringly evil villainess Saskia and are determined to bring her down to her knees. They must journey across the frozen lengths of the arctic, lure the ice-cold villainess out of her iced up fox hole and combat her relentlessly to stop her from fulfilling her evil plan of taking over the world.
With heart stopping features, a bigger and better story, a new, bigger and more evil antagonist, newer rules of engagement and the promise of the icy cold atmosphere in the middle of the arctic, the elements of destruction, chaos and devastation are indeed inevitable. Guaranteed to blow the players away, the game was launched at zero dark thirty on the night on April 9th, 2014. Stay frosty, stay icy and stay determined, because it is time to lock n' load, bring out all the action to the arctic, and engage in ruthless combat as the girls slay, destroy and battle – Oorah!